Change is inevitable and our cities are the best proof — buildings are razed to make way for new developments, mom-and-pop stores shutter, and street names are swapped all in the name of progress.
But what happens when progress for some signals destruction for others? That's the debate a Compass real estate advertisement in Harlem sparked over the weekend.
"Harlem. I have to laugh so I don't cry," tweeted artist and educator Erica Buddington along with a photo of Dominic and Gerald Couzens' Compass Harlem Properties ad. In the ad, both men are sitting on a pristine brownstone stoop with the caption, "Looking for a neighborhood that feels like home? We know the way."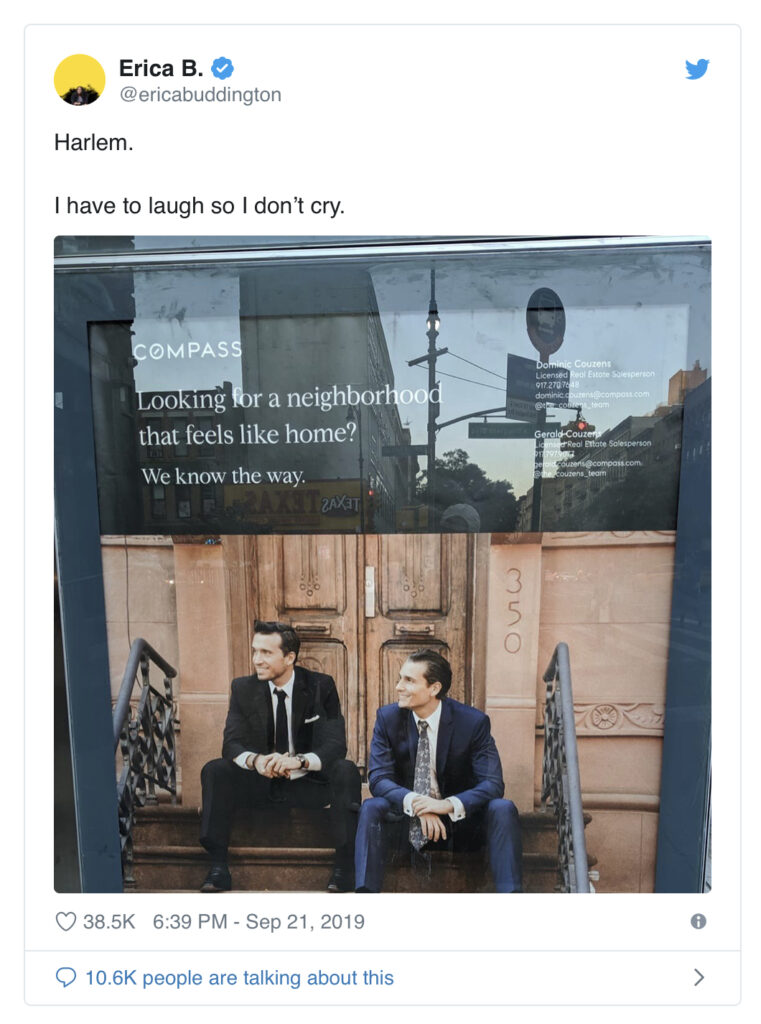 For Buddington and her 18,000 followers, the ad wasn't a simple invitation to use the Couzens' services. The optics of two white men positioning themselves as experts for a historically-black neighborhood wasn't progress — it was an example of gentrification.
According to a study released by the City University of New York (CUNY), Harlem's black population dipped to less than 50 percent in 2008, a 20 to 30 percent drop from the mid-1900s when 70 percent of Harlem was black. The population share has risen to 61.1 percent according to the latest U.S. Census Bureau data, but residents say that won't last for long as home prices continue to rise.

The new wellness amenities the luxury buyer is searching for The priorities of the affluent client are shifting. Here's how you can stay ahead of the curve. READ MORE
"When people think progress means kicking out people who made the neighborhood attractive to begin with in the first place," replied Twitter user TN Brunson. "Forgive me but, I don't know why people are surprised or angry at this point," added user NYStrategist. "Harlem has been heading in this direction for a very long time."
"Ri-dam-diculous," added another Twitter user, @JustNikkiB.
Ri-dam-diculous
— Piglet's Mama (@JustNikkiB) September 22, 2019
Other followers directed their comments toward Compass, adding that the company should have known better while noting CEO Robert Reffkin's biracial background.
"What's crazy is that the founder, Robert Reffkin, is black and studied at Columbia, so he's well aware of the fraught relationship between gentrifiers and longtime Harlem residents," wrote user SB Cordova. "The fact that his company is putting this type of messaging/advertisement up is frustrating."
Another user Raina Lynn said she understood Cordova's sentiments, but that Compass couldn't be fully blamed because they "brand acquire" teams. However, she agreed "their marketing team should have more thoughtful production of messaging and imagery, especially in historical neighborhoods."
The Couzens are part of 19-agent Harlem Properties team, founded and lead by broker John McGuinness who has been working in the neighborhood for a decade. The brother duo is from Manhattan and in various Instagram posts have shared their connection to Harlem, which is located on the northside of the borough.
"In high school, we also played city-wide basketball league at the court next to it," the Couzens wrote as a caption to an Aug. 22 post about a Keith Haring mural in Harlem. "So this mural is etched in our minds from those battles, and really every true New Yorker's mind who passes it."
In a statement to Inman, the Couzens reiterated their connection to Harlem, saying they simply wanted to showcase the neighborhood they've come to love. But the duo "cares for the feelings" of their community and pledges to do better.
"As native New Yorkers, Harlem residents, Realtors who are part of a Compass team based in Harlem, and above all else sensitive people who care for the feelings of our community and those in it, we certainly did not mean to offend anyone by our recent advertising," they said.
"Our goal is always to showcase all of the vibrant neighborhoods of our great city, and we adhere to the highest ethical standards in those pursuits. We will use this experience, and the insights gained by the opinions shared, to work better for all."
A Compass spokesperson echoed the Couzens' sentiments, while explaining the company is  taking steps to make sure similar ads aren't produced in the future.
"Inclusion and diversity are at the center of our mission at Compass," the spokesperson said. "This ad is not consistent with our company values and we, in partnership with Dominic and Gerald, are removing the ad."
"We are listening to the communities we are a part of and will continue to help our agents better serve them," they concluded.
Source: click here