As someone who enjoys a challenge, there's nothing more invigorating for me than handling a one-of-a-kind, off-market sale. They're not easy; and because of their exclusive nature, they won't necessarily help you build your CV. But they will help you build your reputation and contacts within the industry, even if it's only with a select circle. And for real estate professionals, being trusted to provide such a high level of care, tact, and sensitivity is a reward in itself.
Know why your client is choosing off-market
There are many reasons why individuals want to keep their real estate transactions out of the public eye; but of course, the most common scenario you'll encounter in the luxury space is that you're working with high-profile, high-net-worth clients. They expect privacy, and they neither want nor need the notoriety of having their luxury property on the active market.
There are other cases that need to be handled with care. For example, there may be clients who need to keep their names and addresses out of market listings for reasons of personal security. These instances are relatively rare, but the key principle is the same: you cannot be too protective of your client's interests.
In some ways, off-market sales like this run counter to the prevailing ethos of the real estate industry, which prides itself on openness and transparency. Ideally, listings should be public knowledge, and so should information regarding the prices paid for properties. However, there are extenuating circumstances to consider when selling off-market, and it's the job of real estate professionals to ensure their clients are their priority.
With that in mind, here are three rules that can help agents manage their own off-market listings.
1. Be clear about the level of confidentiality

Sometimes, concepts like confidentiality and privacy can seem relative. Are you allowed to talk about the property or the sale in anonymized terms? Can you circulate photographs to prospects? Can you promote the home on a password-protected site? It's worth having that conversation with all sellers, agents, and brokers you're working with, so that you know which lines not to cross.
For many off-market luxury listings, the answer to these questions is a resounding no. All parties involved in the transaction will often be required to sign a non-disclosure agreement, and that means no coverage online, no coverage in the press, and no public listing. I've had high-end clients who list the name of an LLC or trust on their deeds, or else have their attorney sign the document.
2. Network proactively with colleagues
Off-market listings can seem like the ultimate catch-22: the client wants to sell their property, but they don't want you to show it to anyone. So, what do you do?
It's critical to maintain strong relationships with your clients so that they enlist your help with their off-market sales, but it's also essential to build and nurture a network of agents and brokers who can connect you to the right buyers.
Everywhere I travel, I reach out to my affiliated real estate offices to connect with local agents. I value building new professional relationships, creating a roster of colleagues who represent affluent clients and to whom I can turn when an exclusive opportunity arises. It's important to know off the top of your head which of your peers may have a matching buyer for your off-market property, and contact them directly. There are no "six degrees of separation" in the world of off-market listings. There are maybe two or three, at most.
Another challenge is that you're unable to produce and distribute the types of marketing materials you might be used to. As an alternative, you may be able to raise awareness with an exclusive event to which you would only invite your most trusted circle of colleagues. For instance, I've hosted a cocktail party at one of my own under-the-radar listings.
Proactive networking has been a priority for me over the last 30 years, and it's served me well. If you're a newer agent, it's never too late to begin.
3. Always practice diligence and discretion

Lastly, I want to reiterate that representing an off-market listing is a serious responsibility, and must be handled with delicacy, decency, and common sense. It might be tempting to tell others in your sphere of influence that you've closed a multimillion-dollar deal — but don't. All luxury agents want, and need, this type of business on their books, and just because you can't talk about it doesn't mean that it's not there. Trust that the right contacts know about it. There is never a need to brag.
The golden rule is to always ask, "What's in the best interest of my client?" Let that guide your thinking and your process, keep your word, and stick with the program. The goal of any professional in the luxury real estate space is to provide the best possible service to buyers and sellers. That doesn't change when dealing with an off-market listing; if anything, it becomes more imperative — and, perhaps, more exciting.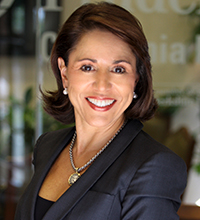 Consistently ranked in the top 1/10 of 1% of all real estate agents in the United States as recognized in The Wall Street Journal, K. Ann Brizolis is the recipient of numerous sales achievement and consumer service awards. She collaborates with attorneys, accountants, and financial advisors to provide real estate expertise and to create a professional and team-oriented environment on behalf of her clients. She is highly respected by her peers and associates for her deep commitment to integrity and ethics and her contribution to the industry. A resident of Rancho Santa Fe for the past 33 years, Ann is recognized as a dedicated and knowledgeable community leader.
About Sotheby's International Realty
Sotheby's International Realty was founded in 1976 as a real estate service for discerning clients of Sotheby's auction house. Today, the company's global footprint spans 990 offices located in 72 countries and territories worldwide, including 43 company-owned brokerage offices in key metropolitan and resort markets. In February 2004, Realogy entered into a long-term strategic alliance with Sotheby's, the operator of the auction house. The agreement provided for the licensing of the Sotheby's International Realty name and the development of a franchise system. The franchise system is comprised of an affiliate network, where each office is independently owned and operated. Sotheby's International Realty supports its affiliates and agents with a host of operational, marketing, recruiting, educational and business development resources. Affiliates and agents also benefit from an association with the venerable Sotheby's auction house, established in 1744. For more information, visit www.sothebysrealty.com.
The affiliate network is operated by Sotheby's International Realty Affiliates LLC, and the company owned brokerages are operated by Sotheby's International Realty, Inc. Both entities are subsidiaries of Realogy Holdings Corp. (NYSE: RLGY) a global leader in real estate franchising and provider of real estate brokerage, relocation and settlement services. Sotheby's International Realty Affiliates LLC and Sotheby's International Realty Inc., both fully support the principles of the Fair Housing Act and the Equal Opportunity Act.
Source: click here