Yelp has made a quiet, subtle change that could have a big impact on the real estate industry: the mega reviews website has made it extremely difficult for people to find Yelp reviews for Opendoor and Offerpad, two of the country's leading online homebuyers and re-sellers.
Bearing nearly 500 reviews, a subpar 3-star rating and many responses from its corporate account, Opendoor's three-year-old Yelp reviews page is still accessible online, but the only way for anyone to find it is by going directly to this link or bookmarking it. The page can no longer be located through Yelp's online search tool, nor through Google search. The same goes for Opendoor rival Offerpad's Yelp page, which was much less active than Opendoor's listing, holding only a single one-star review.
Yelp reviewers and industry experts told Inman they believe Yelp's decision to hide major iBuyer reviews pages from search impedes public scrutiny, making it more difficult for consumers to evaluate the companies while leaving traditional real estate brokerages, whose negative Yelp reviews are still discoverable, at a competitive disadvantage.
Opendoor has also received financial backing from Yelp's CEO and two former Yelp board members, though an Opendoor spokesperson told Inman the ties between the two companies had nothing to do with Yelp's policy change, and that Opendoor did not ask Yelp to hide its page.
"Any agent or broker with less than four stars on Yelp would give their left pinky to have those reviews disappear," said Brian Boero, a real estate consultant. "If I were Opendoor and had a three-star rating, I would be relieved to have that suddenly vanish from Yelp."
Indeed, research has shown that a substandard Yelp rating can have a punishing impact on businesses. One recent survey found that 57 percent of consumers will not even consider a business with less than four stars. Opendoor and Offerpad's Yelp pages both have less than than four stars.

Is technology getting in the way of your success? A commentary by EXIT Realty Corp. International CTO, John Packes READ MORE
When and why did Yelp hide the iBuyer pages?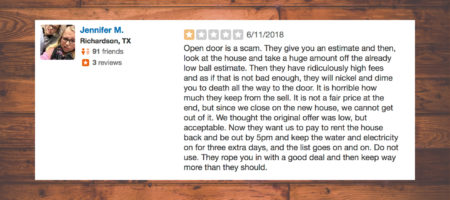 Yelp states on its website that it does not remove business listings, "because it's important (and a legal right) for consumers to be able to find and share helpful information about great local businesses."
But the site does not publicly specify under what conditions it will remove a reviews page from its internal search tool and from Google search pages.
According to Opendoor spokeswoman Cristin Culver, the iBuyer's account representative at Yelp informed Opendoor on July 28, 2018, that the reviews site had removed Opendoor's more than three-year-old listing, following what she said was an internal discussion at Yelp about Opendoor's business model.
Culver said Yelp concluded that Opendoor "was not a fit for their platform based on the overwhelmingly virtual nature of our business."
Asked why Yelp decided Opendoor no longer met its eligibility requirements after having a page for over three years, a Yelp spokesperson said "broad statements about eligibility are often difficult," but that as Opendoor "began expanding and publishing non-physical listings in new markets, we felt that the operation no longer fell within the local nature of Yelp."
"While Opendoor is available in local markets, they are more of an online portal focused on providing a digital marketplace than interpersonal interactions," the spokesperson added.
The spokesperson didn't respond when asked what was meant by "non-physical listings." Opendoor lists physical homes on its website; has local offices in its markets; interacts with customers in person through home inspectors; and employs real estate agents.
Opendoor's Culver also implied that Yelp decided that Opendoor no longer qualified for a reviews page because the startup's offices don't conduct "face-to-face interactions" with customers. The Yelp spokesperson alluded to this as well, mentioning that the iBuyer's "main focus is on consumer-facing brick-and-mortar businesses."
Opendoor isn't the only iBuyer to have vanished from Yelp's directory. Offerpad spokeswoman Cortney Read said she and a few people on Offerpad's marketing team were not familiar with Offerpad ever having had a Yelp page. But Inman discovered at least one Offerpad page, which Offerpad had claimed as its own, that doesn't appear in Yelp or Google search results. Inman could not locate Yelp pages for Zillow's iBuyer, Zillow Offers, or for Knock, another buzzy iBuyer.
But at least one small iBuyer, Amne, based only in Austin, Texas, still has a Yelp review page that can be easily found by searching the website or Google.
Asked by Inman if Yelp had determined that all iBuyers shouldn't qualify for Yelp, the Yelp spokesperson didn't respond.
Notably, some Opendoor competitors that also lean heavily on digital technology and have a national presence continue to have Yelp listings, including eXp Realty, which doesn't have offices, and high-tech brokerage Redfin.
The Yelp spokesperson said that Redfin, which also operates an iBuyer called Redfin Now, is eligible because the brokerage employs "on-the-ground agents," implying that Opendoor does not. Opendoor's Culver said that characterization from Yelp was fair, though she said Opendoor does employ Realtors in offices around the country who advise customers on transactions similar to other agents.
Redfin's leadership disagrees with the notion that iBuyers shouldn't qualify for listings on Yelp.
"If the iBuyer delivers local service to the homeowners, the homeowners should be able to review the iBuyer on Yelp," Redfin CEO Glenn Kelman told Inman.
And that goes for Yelp reviews about Redfin Now, as well, he said. Redfin has discoverable Yelp pages for offices across the country where reviewers could potentially rate Redfin Now.
"I've seen national monuments that have Yelp pages."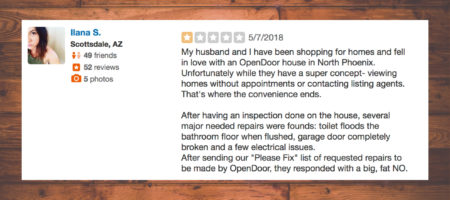 Yelp's policy change has incensed reviewers who left feedback on Opendoor they thought would be broadly accessible by others.
Ilana Scheinker, a young mother who purchased a home from Opendoor in Phoenix last year, left a negative review on the company's Yelp page in early May 2018, accusing the company of refusing to acknowledge property defects that were uncovered in a home inspection, as well as a "lack of communication, business ethics and common decency."
Shneinker told Inman in a recent phone interview she disagreed with Yelp's argument that Opendoor doesn't conduct "face-to-face" interactions.
"They [Opendoor] have their own inspectors, their own workmen — there's local people that they employ," Scheinker. "I've seen national monuments that have Yelp pages."
Lee Fitzgerald left a negative review on Opendoor's Yelp page before it was hidden, saying he almost sold his Dallas home to Opendoor in December 2017, but that the company abruptly canceled the deal after inspectors it hired found a foundation issue. He said that inspectors he hired separately reported his home's foundation was sound.
"I was very honest in my review and wanted other people to know about my experience," he told Inman, adding that he later sold his home for more than Opendoor had bid for it.
Even Yelp's spokesperson conceded Opendoor's eligibility is debatable, "there are some gray areas where we need to make a tough call about whether a business belongs on Yelp or not."
Asked whether Opendoor agreed with the startup's disappearance from Yelp's directory, Culver said Opendoor supports "the terms and conditions in which Yelp chooses to operate their business and platform," and that Opendoor did not request the removal of its Yelp reviews page.
Indeed, Culver said Opendoor was surprised to have its page removed. The company had clearly worked diligently to burnish its Yelp page over more than three years, with Opendoor reps encouraging people who left negative reviews to contact them and have their issues addressed. Nonetheless, Opendoor achieved only a three-star average review when the page was hidden.
Some Opendoor customers are still finding ways to make their voices heard, setting up makeshift Yelp listings for local Opendoor offices with names that are variations on "Opendoor." One of these, a Raleigh, North Carolina, listing titled "Opendoor Real Estate" with 10 reviews and a 2.5-star out of 5-star rating, was de-listed shortly before this article went to press.
Yelp's spokesperson told Inman that it couldn't say if or when any makeshift Opendoor pages might be removed, because business listings are reviewed on an ongoing basis.
Another makeshift listing for Opendoor's Las Vegas office, also bearing a 2.5-star rating and named "Open Door Realty," may be the last of its kind still standing.
Unlike its original, now-delisted Yelp page, Opendoor has not claimed these grassroots pages as its own. Culver said the listings weren't created by Opendoor and "should be managed and regulated by their [Yelp's] team."
The "PayPal mafia" connections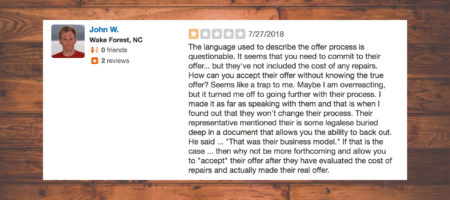 There are deep connections between Yelp and Opendoor, though Opendoor's Culver said this had nothing to do with Opendoor's Yelp page removal.
Yelp CEO Jeremy Stoppelman and ex-Yelp board chairman Max Levchin were both seed investors in Opendoor, and Opendoor co-founder and chairman Keith Rabois is a former Yelp board member.
All three are part of the "PayPal Mafia," a clique of Silicon Valley titans who have collaborated on many successful tech companies and have recently charged into the real estate industry
Spokespeople for Yelp did not respond directly to questions about whether Opendoor's Yelp page was removed following requests or complaints from anyone at Opendoor, nor did they respond to questions about whether Yelp CEO Stoppelman had been involved in, or made aware of, the removal of Opendoor's Yelp listing.
Real estate agents grapple with Yelp changes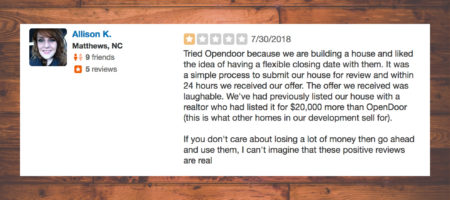 Just as Yelp has hidden the prominent iBuyer reviews pages, real estate agents and brokerages continue to expend considerable time and effort managing customer reviews on their publicly discoverable Yelp pages.
Some agents say Yelp has marginalized legitimate positive reviews. Guy Gal, a former entrepreneur in residence at venture capital firm Matrix Partners, told Inman he spoke with many Realtors who said they faced this problem.
"This is after years of work and thousands of dollars in ad money to Yelp to build the profile in the first place," Gal said.
One agent reported in an October LinkedIn post that Yelp had shunted 110 of his 148 reviews to the not-recommended Yelp pile, "removing my business from among the best in our area and exposing us to public speculation that the reviews for which we have worked tirelessly — over years — are in some way illegitimate."
"As small businesses (we are sure we are not alone) suffer massive damage due to your 'update,' all you have to offer is a shallow explanation that reads like a "c'est la vie" shrug," the agent wrote.
Consumers can still find ratings and reviews of Opendoor and some other iBuyers on Google's business directory, HighYa and Better Business Bureau. Culver said that Opendoor asks consumers to review and rate it on these sites following the conclusion of a deal or business with the company.
Still, the leading iBuyers' omission from public visibility on Yelp seems to create a noteworthy divide between them and other brokerages and real estate agents.
"Consumers should have the option to rate and review the various services using the same methods," said Michael DelPrete, an industry analyst who closely tracks iBuyers. "If iBuyers like Opendoor aren't included in rating sites, it gives them a competitive advantage by allowing them to control customer reviews."
Boero, the real estate consultant, doesn't think that Yelp has deliberately given Opendoor and Offerpad special treatment, but that may be the effect of the Yelp policy change.
"If you believe that iBuyers are going to become a mainstream way for people who own homes to sell them, then not having the benefit of a site like Yelp, where people, for better or for worse, can rate these services, that seems to be kind of unfortunate from a consumer perspective."
Source: click here