We'll add more market news briefs throughout the day. Check back to read the latest.
Most recent market news
Thursday, April 26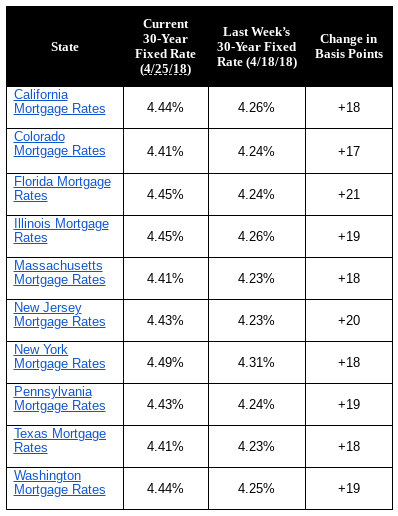 "After flatlining for much of the past two months, mortgage rates have again moved definitively upward, touching their highest levels since January 2014," said Aaron Terrazas, senior economist at Zillow.
"This upward momentum suggests a growing acceptance of the underlying strength of the American economy that markets seemed to discount over the past couple of months. Several Fed speakers over the past week noted the strength of incoming U.S. economic data, which will be particularly important going into next week's FOMC meeting. GDP and wage data due later this week will be important metrics to watch as recent geopolitical flashpoints seem to be receding."

How to win the listing before you arrive Tom Ferry's 5 winning pre-listing appointment rituals READ MORE
News from earlier this week
Wednesday, April 25

Tuesday, April 24

Monday, April 23

Source: click here